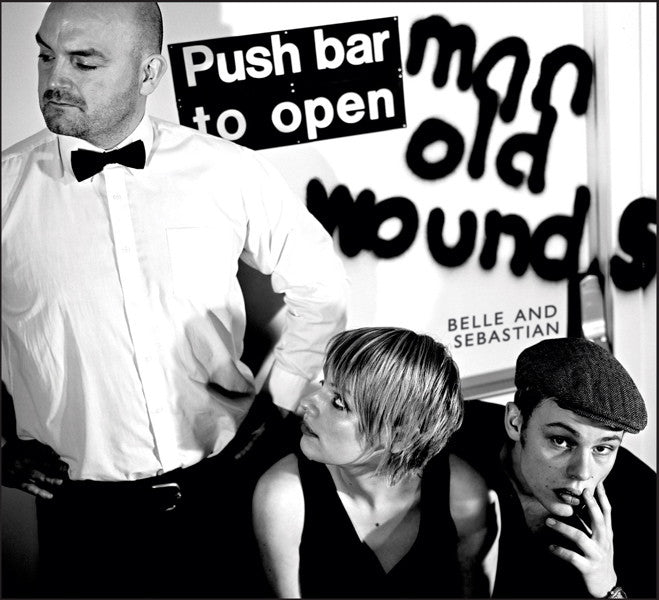 Belle and Sebastian
Push Barman to Open Old Wounds LP
Jeepster Recordings (JPRLP015-2014)
Limited-edition deluxe 3LP compilation of the 7 non-album EPs recorded 1997-2001.
Available again from October 6th as part of the 'It Could Have Been a Brilliant Career' reissue campaign this will be the first time that the vinyl edition of the album has been available since it was first released in 2005.
The new edition of the vinyl will be packaged in a heavyweight protective outer sleeve with a Jeepster sticker to keep it secure and will include an obi strip featuring the 'It Could Have Been A Brilliant Career' series artwork and a download card for a free digital copy of the album.
'Push Barman To Open Old Wounds' is a compilation of all the band's Jeepster EPs and singles.
Side 1

01: Dog on Wheels
02: The State I Am In
03: String Bean Jean
04: Belle and Sebastian

Side 2

01: Lazy Line Painter Jane
02: You Made Me Forget My Dreams
03: A Century Of Elvis
04: Photo Jenny

Side 3
01: A Century Of Fakers
02: Le Pastie De la Bourgeoisie
03: Beautiful
04: Put The Book Back On The Shelf

Side 4

01: This Is Just A Modern Rock Song
02: I Know Where The Summer Goes
03: The Gate
04: Slow Graffiti

Side 5

01: Legal Man
02: Judy Is A Dick Slap
03: Winter Wooskie
04: Jonathan David
05: Take Your Carriage Clock and Shove It

Side 6

01: The Loneliness of A Middle Distance Runner
02: I'm Waking Up To Us
03: I Love My Car
04: Marx And Engels


---
Share this Product
---
More from this collection